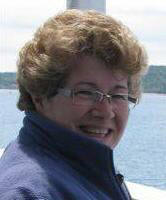 The infinite colour variations, shapes and forms playing with light, the dancing leaves, the twining stems and vines supporting flowers entrance me. The wonder and mystery of the old gnarled tree stops me in my tracks. A story begs to be told. The vast and often overpowering landscape of our world stirs my soul. Fairies play in the garden. Angels whisper in my mind. The brush is dropped in despair and watercolour paint spatters the wall of the studio again. Will I ever get it? Sometimes, I am close.
Penny Lamnek/Van Hees was born in Edmonton, Alberta and credits her high school art teacher, Mr. Hank Zyp, for helping to lay a firm foundation on which to build. After high school she attended the Kootenay School of Art for two years and since that time has studied with many internationally known artists.
As an unrepentant book junkie, she spends hours pouring over the latest and oldest publications searching for answers. Penny adds pottery and writing to the pursuits that keep her up all night. Penny has been a member of the Edmonton Art Club since 1979 and has held many positions including President in 1986. She joined the Alberta Community Art Clubs Association in 2008 and is currently the Newsletter Editor.
Affiliations and Exhibitions:
Edmonton Art Club 1979 to 2010
Annual Spring and Fall Exhibitions at venues including:
The Edmonton Art Gallery,Manulife Place, Johnson Gallery, Edmonton City Hall
Stanley Milner Library, Misericordia Hospital, McMullen Gallery
Strathcona Place 2001, Two person show
Village of Boyle 50th Anniversary Art Show 2004 Show Manager
Allied Arts Council of Spruce Grove 2008 Second Place Award
Alberta Community Art Clubs Association 2008 to 2010
Zone Show and Alberta Wide Show at Red Deer Museum 2008
Zone Show and Alberta Wide Show at Red Deer Museum 2009 Jean Stephenson Award